24 Hour Mobile Truck Mechanic at your Service!


Just had a truck breakdown on your way to work and don't know what to do? Don't let it spoil your day or get in the way of your business.
With 24 hour mobile truck mechanic, you can get immediate help and be on your way to work in no time!
With our 24 hour mobile truck mechanics ready and available for you anytime of the day or night, help is always at hand – whether you are stranded on the highway or fail to get your truck out of your garage.
Our truck and heavy vehicle mechanics are licensed and experienced professionals who can fix a host of issues related to trucks, trailers and other heavy vehicles.
Simply give us call and we will send one of our experienced mobile truck mechanics to you for your one or multiple fleet of trucks for checkups, repairs and servicing.
You Come To Us or We Come To You!
Our Extensive Services Include:
Fast turnaround, minimising downtime.
24 Hours 7 Days Breakdown Service
Competitive Rates
Friendly team to deal with
Quality of Workmanship guaranteed
Heavy to Light Vehicle Maintenance, Service & Repairs
Engine Cylinder Head Service & Reconditioning
On-site Mobile Service 7 Days/24Hrs
On-site Mobile Breakdown Service 7 Days/24hrs
Labour Hire
Truck, Bus, Trailer, Heavy Vehicle Diesel Repairs
Vehicle pickup & drop off service for customer convenience
RTA approved (NSW) Inspection Station
Pink Slips (Light & Heavy), Brown Slips, Defect Clearance
Heavy Vehicle Diagnostic Computers & Scanners
Engine, Gearbox, Diff Service & Repair
All Gearbox & Diff Rebuilds
Road Ranger Gearbox Rebuilds
Clutch, Brake, Driveline, Cooling & Suspension System Service & Repair
Brake Drum Machining
Fleet Maintenance & Management Program
Fuel Injection Service
New Spare Parts Sales
Used Spare Parts Sales
Our truck and heavy vehicle mechanics are acquainted with all makes and models of trucks, trailers and heavy vehicles. Being trained professionals, we are also well versed with all parts of such heavy vehicles.
When you call us for assistance, you are guaranteed of the best results in the quickest turnaround time and in extremely affordable prices.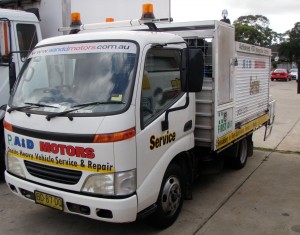 The best thing about our 24 hour mobile truck mechanical service is his round the clock availability. This means, you need not wait for hours, or even days, to get your truck, bus, trailer or any other heavy vehicle repaired in case of a breakdown.
An expert truck mechanic is available at your emergency service, be it day or night!
A mobile truck mechanic can not only come to your aid anytime of the day but also anywhere you're stranded!
Another feature that makes our truck mechanical services such sought-after is our mobility.
Whether you need help in your home or workplace premises or in the middle of nowhere, a professional repairman can reach you as early as possible.
Our Truck mechanics also offer an emergency pick-up service, so that you need not bother about getting your broken vehicle to the nearest service or repair station. What's more – our truck mechanics also provide free vehicle pick-up and drop-off service at a location chosen by you. This service highlight goes a long way in saving your time, effort and of course, money!
Whether you are facing a problem with your truck's engine, gearbox, clutch, brake, cooling system driveline, suspension system or any other part, one of our mobile truck mechanics can fix it for you in a quick and cost effective manner.
If you are trying to find a particular spare part for your truck, bus, trailer or other heavy vehicle but have been unsuccessful so far, simply contact us for our 24 hour mobile truck mechanical services.
Why wait for an emergency to happen?
You can even contact our 24 hour mobile truck mechanical service for periodic survey, inspection and scanning of your truck, trailer, bus and other heavy vehicles.
Our 24 hour truck mechanics are experienced professionals that work as per the latest Australian standards of vehicle safety and ensure that your truck is in absolutely good running condition.
Should there be any minor issues with your truck, trailer or heavy vehicle, we also help to fix it in the nick of time in order to avoid bigger and costlier repairs later.